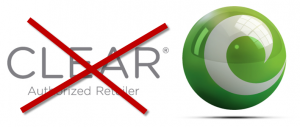 Clear kept their promise and dropped all authorized CLEAR dealers as of the end of August 2013. Most dealers were able to sell off all of their inventory. That last point applies to Wimaxsatx.com as well. We have ZERO INVENTORY at present time.
Having said all that, we are actively seeking out former dealers who may still have inventory left over, just gathering dust in a storage unit or closet somewhere.  If we find such inventory and are able to reach an accommodation with the former dealer, we'll make those items available for sale on this website.
WE CAN NO LONGER ACTIVATE NEW CLEAR ACCOUNTS, but new customers (or existing customers) can apparently still activate or change out new modems on their accounts, if you can find working equipment.  CLEAR is not selling or offering any equipment for replacement or new accounts.
CLEAR has recently raised their prices on new and existing customers by $5/device.  Standard unlimited plan (unlimited speed & data) is now $54.99 plus local or state taxes.   The limited speed plan was raised to $39.99.  If you had a "Take-2″ or other similar bundle, it is very likely that your price has gone up $5/device, or $10 for the "Take-2″ plans.
Other current resellers running on CLEAR's network, include H2O Bolt, EarthLink and Net Zero.  Some offer limited data plans, some offer unlimited, some require contracts.   At this time, we haven't made a decision whether to resell one of the alternative services, or just stay out of the Internet business.
We continue to offer EXTERNAL ANTENNAS, for those CLEAR devices which accept such add-on antennas, and are still offering EXTERNAL CONVERSION MODEM SOLUTIONS (using your modem) thru the www.ClearlyWimax.com website.  That website is not owned nor operated by Wimaxsatx.com and all support calls for products purchased from that site should use the number listed at the bottom of their website.
We continue to offer local / regional computer support services, such as networking, upgrading, troubleshooting, anti-virus / spyware / malware removal services,  and general consulting services.  We continue to offer web hosting services and webmaster services to anyone, anywhere.  Our primary computer services area is the San Antonio, Texas metro area.
Permalink Comments off