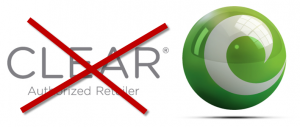 Well they say all good things must come to an end, and I guess August 31, 2013 will be the end of the CLEAR experience for us as well.
We've been a CLEAR dealer / agent / reseller since the fall of 2009 here in San Antonio, TX, and later was allowed to expand national so that we could better serve our customers who were buying our revolutionary external modems for use on CLEAR's network.
We will continue to offer external antenna and modem solutions, but are currently unable to provide the Hub Express modem to perform any "reconfiguration" or "conversion" work upon.  All future customers will need to buy a modem direct from CLEAR's online website, or from select Best Buy stores who reportedly will continue to stock and sell CLEAR modems.
Permalink Comments off