Those of you who have been regular subscribers to our website, were already aware that we've been working with a Texas based radio engineering firm to develop a "solution" regarding current CLEAR home modems that can't accept a connection to an external antenna.
That status just changed for the better.  We've moved from theory, to proof of concept, to actual units in the field for testing, as of Sunday, July 11th.
We now have a solution for an external antenna / modem arrangement that is undergoing limited beta testing in San Antonio at select CLEAR customer sites, where their signal is less than to be desired, due to terrain and distance from the nearest CLEAR tower site.  We can't create a signal out of thin air where there isn't one, but we can enhance the receive signal where the signal is weak, in many cases, with our better antenna design and ability to mount it where can get a better signal.   If you are already getting 4 or 5 bars, or even just 3, on your home CLEAR 4G modem, you probably won't be interested in what we've done.
Our solution won't be the perfect one for everybody, but we think most of those who cough up the money for the conversion will be happy with the results. 
Our solution uses the same MAC address registered with CLEAR, and remains within the specs of the original FCC Type Acception.  We did not alter the existing specs regarding effective power output or range of temperature operation.  We've tested it up to 56 degrees Celsius (about133 degrees Fahrenheit), which is hotter than the original specs, and the modem kept on working, within FCC & manufacturer specs. 
We use some very expensive, sophisticated electronics radio gear to measure, test and adjust the built-in radio that is the modem, just to keep in specs and enhance performance. Every  conversion is tested by a certified radio engineer, prior to shipping or delivery back to the paying customer.  We only use, or convert, authorized CLEAR issued Motorola 4G WiMax modems, not a third party solution.  We provide before & after printed reports FROM THE M OTOROLA MODEM ITSELF, to let you compare the improvement in reception abilities after we have done our part.
In the beginning, there was a home modem, actually about 3 different models of them, provided by CLEAR in various markets.  Original, Series M, & Series G.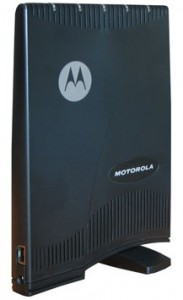 Here in Texas, and in most other CLEAR markets, the Motorola wi4 WiMAX CPEi 150 Desktop CPE modem was the original king of the home 4G desktop modems, the one with the status lights on the top.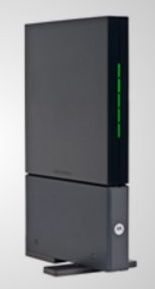 But then came its replacement, the Motorla CPEi 725 modem, referred to as the "Series-M" modem.  Neither accept external antenna connections.   According to Motorla's website…
The WiMAX CPEi 725 features a balanced blend of integrated design, data and voice access ports, high gain antennas with omni directional performance to offer best possible signal strength.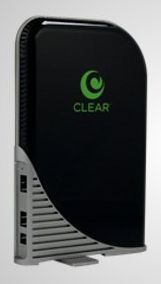 It's signal strength indicator lights are on the front edge, rather than the top like the CPEi 150.  Local tests show that in many cases, the built-in antenna is superior in reception to the previous modem.
In some other test markets, Las Vegas for one, CLEAR has sold / leased a third modem, called the "Series-G" modem made by GEMTEK.  It features a more modern look, with rounded edges and curved design.  We've never had the GEMTEK modem here in San Antonio, so we've been unable to compare results with the other two CLEAR 4G desktop modems.
We'll be starting some live testing with real CLEAR customers in San Antonio this week, and we'll post some photos of our unit within the next day or two, along with some videos of our live testing.     
Our design  is completely weather proof, even with Texas weather, and more importantly, does not require running a separate external power line.  There are no user accessible adjustments, other than the hardware to mount it and your choice of orientation toward the nearest CLEAR tower site.  We used only top  industrial quality parts, not stuff from your local electronics store.   The converted CLEAR 4G Wimax home modem can be used inside  or outside your house or builidng.  You can mount it under the eave of the roof, on a tower or pole, or re-use that mounting bracket that used to hold your satellite TV dish. 
We will be including everything except the CAT 5e cable used to connect the enclsure to your router or computer inside the building.  We recommend that most folks do not use more than 75′ of CAT 5e ethernet cable between the enclosure and your router, for reasons we'll share later.  We include the basic mounting hardware to mount to a tower or pole, and instruction on how to attach the hardware to the enclosure.  You supply the appropriate CAT 5e ethernet cable of your choice, or we can supply it for a small additional charge. 
Remember, this is using CLEAR Motorola modems, but CLEAR has not endorsed this modification, nor will they support the warranty if you have their modem modified by  us.  We'll sell & activate you a new CLEAR 4G desktop modem, or we'll take your existingCLEAR 4G desktop modem and convert it.  It takes longer to turn around a conversion than it does to simply sell you a new one, but CLEAR won't let you use any modem other than one they sell thru a dealer or their website.   This is NOT a solution for use with the USB modems, nor the CLEAR Spot personal wi-fi hotspot devices.
If you are leasing your CLEAR home modem, we do NOT recommend this conversion for you, because you will need to return the modem "in orignal condition"  if you drop your lease with CLEAR.  But if you buy your CLEAR 4G desktop modem, it's your choice to void the warranty by letting us convert it. 
We plan to have 2 levels of pricing, 1) conversion of your existing CLEAR modem, or 2)  conversion of a newly activated modem sold by us.  If you figure in the hassle factor, shipping time both directions, it will be much faster to buy a new modem from us, but if you are under contract with CLEAR, this won't be a good option for you.
In the beginning phase as we ramp up production, we expect realistically that there may be up to a 3-4 weeek turn around for the conversion of an existing CLEAR modem, and possibly up to a 2 week delay for conversion of new modems activated by us.   We can't simply convert a stock of modems in advance of an order, because for some strange reason,  CLEAR wants their inventory to remain, well, their inventory, until sold and activated to a customer.   We think they might take a dim view to us converting a bunch of their modems if we don't have new customers lined up to buy them.
Also, this radio engineering firm is just a small 3 man operation here in Texas, and is not geared up for mass production of the scale we think we'll need really soon.  So there may be some growing pains as supply chains are firmed up for the various components, but all the labor is done here in Texas.  By the way, those of involved in this concept are all licensed ham radio operators as well, so we really do understand antenna theory, and are used to building our own antennas when the stock commercial antenna doesn't work the way we wanted it to.
Feel free to post your comments, questions, etc., using the comment form below,  or send your  email to lee@wimaxsatx.com.  You can also call or text us at (210) 771-7075 during reasonable hours (not in the middle of the night, please).
Stay tuned!  We're really excited about this!