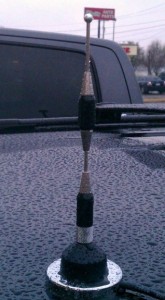 This popular antenna was out of stock temporarilly due to delays by our manufacturer, but that problem has been addressed, and received our shipment of mobile magnetic mount antennas yesterday.  Probably the only bright news we heard all day during the elections.
This antenna is 5db of gain, about 8 inches tall, with a strong magnetic mount base.  The coax cable is 12ft long, and we supply the proper adapter for your Apollo Clearspot, NetZero4G Hotspot, CLEAR 4G USB or NetZero4G USB modem.  It can also be used with the CLEAR Stick Atlas USB modem or several other models.  It has a frequency range of 2.3ghz-2.7ghz, so it's right at home in the CLEAR 4G Wimax bands.   We do NOT recommend this antenna for the current crop of LTE modems, as they are NOT in the same frequency range as what is being used by WiMax at this time.  That may change in the summer of 2013, but for now, they won't work as efficiently in the other frequency bands, and in fact, may damage your LTE modem.  We will not knowingly sell this antenna to someone running LTE.
These antennas are only $89.95 plus $10 shipping & handling.  Sales tax will be charged automatically for sales going to Texas residents only.
So if you've been waiting for us to get some more mobile antennas in stock, your wait is over!  Order them online at this website, or contact us via email at lee@wimaxsatx.com or call/text us at 210-771-7075 during normal business hours (we're in the Central Time Zone).
Permalink Comments off